Learn More about iMicro
Background Story
We are a group of young people who have a consuming passion for new things and high technology. iMicro is one of our most proud products which applies high-tech into our daily lives.
Since Antony van Leeuwenhoek invented his microscope in the 17th century, there has been great progress in microscope technology. Microscopes with excellent performance usually are bulky, heavy and expensive, even for portable ones. Therefore, iMicro is a real breakthrough in portable microscopy: it has comparable optical performance to a professional desktop microscope and enables you to carry it with you as easily as you carry your phone.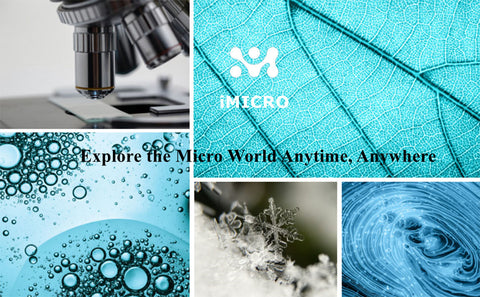 The fingertip microscope has extremely high magnification and resolution which is comparable to a desktop microscope. There are 2 models: iMicro Q2 and iMicro C.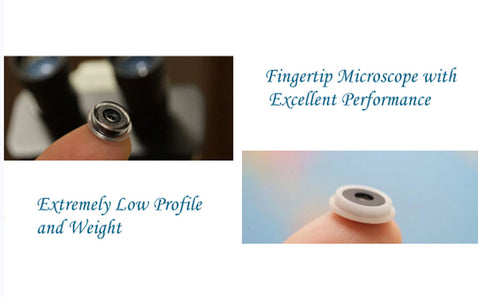 Comparison between iMicro Q2 and iMicro C
iMicro Q2 and iMicro C are complementary: iMicro C has a lower magnification and a larger visual field, while iMicro Q2 has a higher magnification and a high resolution. The detailed comparison between iMicro Q2 and iMicro C is shown in the table. They are both suitable for different yet complementary purposes.

The picture below shows the comparison of the same scale target being observed with iMicro C and iMicro Q2 (when no digital zoom is applied) to compare their visual field.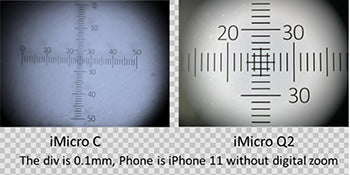 Extremely low cost
For traditional compound microscopes, the magnification mainly relies on its complex optical system, which includes objective and eyepiece. Its magnification is a combination of the magnification of objective and eyepiece.
For iMicro, three stages of magnification are combined to achieve the total magnification. First, the lens provides optical magnification to generate the image on the smartphone camera's sensor; second, the image on the sensor is displayed on the much larger screen via the electronic process and magnification; third, digital zoom provides further magnification as a digital magnification to the image. The total magnification is a combination of these three.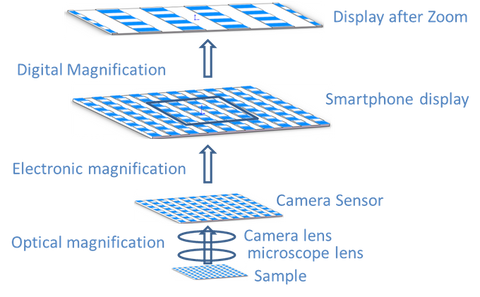 Therefore, iMicro uses a different process and technology compared to a traditional microscope. Thanks to the advance of micro-optics and smartphone technology, with the effort and expertise accumulated in the past years, we have enabled iMicro to achieve excellent performance at a low cost.
Easy to use and convenient to carry
iMicro works with all smartphones. It can be easily attached to the phone through its nano-suction pad. Low profile and weight suits pefectly in your wallet.
Explore the amazing micro world anytime, anywhere!